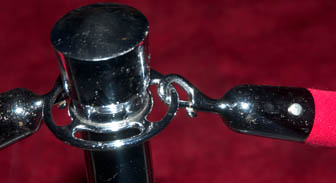 As one of the first colonies in the United States, Virginia boasts a long history of theatrical performances. Many of today's theater companies have made their homes in restored historic buildings, from a colonial tavern to an old lime kiln, making a night at the theater a more unique experience. Whether you're in the mood for Shakespeare, children's theater, a contemporary avant-garde production, or murder mystery dinner theater, you'll find it in Virginia.
History
During the colonial period, theater was much maligned in the northern colonies, because the Puritans considered play-acting sinful. Colonists in the South, however, strove to emulate their aristocratic counterparts in Britain. Life was to be enjoyed, and attending the theater was a pleasurable pastime. In fact, the only colonies that never passed laws prohibiting theatrical performances were Virginia and Maryland.
The earliest record of a dramatic performance in the Virginia colony dates back to 1665, most likely by amateur players. In 1716, the first colonial theater opened in Williamsburg, bringing productions over from London. At the time, Williamsburg was the most cosmopolitan, affluent city in the colonies. While the area's wealthiest citizens could have easily afforded the luxury of a night at the theater, they considered it beneath them. The middle class, however, flocked to the playhouse to see the stars of the London stage. But the Williamsburg theater's popularity dwindled, becoming unused by 1736; in 1745, the city turned it into a town hall.
In addition to hosting the first theater in the United States, Virginia also claims the earliest theater that was designed, developed, funded, and run exclusively by African Americans. The Attucks Theatre in Norfolk, built in 1919, became known as the "Apollo of the South." Plays, vaudeville, and movies showed at the theater, and legendary performers such as Redd Foxx and Mamie Smith appeared on its stage. Though its days as a theater ended in the 1950s, it occasionally hosts festivals aimed at the African American community. It's also been designated a national and state landmark.
Virginia Theater Today
The official state theater of Virginia, the Barter Theatre, bears an interesting history as well. Out-of-work actor Robert Porterfield brought a company of actors to his hometown of Abingdon and opened the theater in 1933. With the country in the grips of the Depression, money could be hard to come by, so the theater allowed people to trade food products for tickets in lieu of cash. From the very first performance, the concept proved to be astoundingly successful. Farmers and home gardeners were able to enjoy an evening of entertainment, while the actors feasted on the produce, livestock, dairy items, and home-canned goods brought by their audiences. Over the years, famous actors such as Patricia Neal, Hume Cronyn, and Gregory Peck began their careers on the Barter's stage. Although today's audiences must usually pay for their tickets with money, the Barter Theatre continues its legacy by offering at least one performance a year in exchange for donations to a local food bank. The theater currently includes two stages, producing a variety of dramas, comedies, and musicals. Every August, it hosts the annual Appalachian Festival of Plays and Playwrights to give Appalachian playwrights a showcase for, and help to refine, their works.
Another notable Virginia theater is Blackfriars Playhouse in Staunton. Blackfriars Playhouse presents classic plays, mainly Shakespeare, as an Elizabethan audience would have experienced them. Lighting, sets, costumes, live musical accompaniment, and actors playing multiple (sometimes gender-bending) roles all adhere to Elizabethan production principles, while executed in a way that speaks to modern audiences. The theater itself is crafted of white oak, the only reproduction of Shakespeare's original indoor theater in the world. Its resident company, Shenandoah Shakespeare, performs a rotating repertory of plays during its season, and its touring company performs at many venues throughout the Commonwealth and country. Guided tours of the playhouse are offered Mondays through Saturdays. Both the Blackfriars Playhouse and Shenandoah Shakespeare have garnered international acclaim.
Even if your travels don't take you to Abingdon or Staunton, you can experience theater with a piece of the past in plenty of other places. The Barksdale Theatre operates two locations, one in the Hanover Tavern, built in 1733 and listed on the National Register of Historic Places; the other at Willow Lawn in Richmond. Richmond is also home to the Firehouse Theatre Project, housed in a historic former firehouse. They focus on producing plays not previously seen in the area, and they develop at least one new play per year. In nearby Colonial Heights, the Swift Creek Mill Playhouse stages a wide range of plays and musicals in the country's oldest grist mill, which dates back to 1633. Other theaters housed in historic buildings include the Yoder Barn Theatre in Newport News, Theater at Lime Kiln in Lexington, and the Lincoln Theatre in Marion.
Dinner theater is especially popular in Virginia, so if you like your drama served up with a tasty dish you're in luck. Most of the Commonwealth's dinner theaters specialize in either murder mysteries -- usually with a dash of comedy -- or in musicals. Perhaps the most unusual is the Wohlfahrt Haus Theatre in Wytheville. This German-themed musical dinner theater includes a Bier Garten, plus a gift shop with German collectibles and theater memorabilia.
If you're traveling with kids, chances are good that you'll find a suitable play for the whole family. In Vienna, Wolf Trap's Children's Theatre-in-the-Woods summer series is an especially fun outing. For an experience that's also educational, take the kids to see the Carpenter Science Theatre Company at the Science Museum of Virginia in Richmond. Their original plays relate to science and scientists, and with plays as short as 10 minutes, they're a great choice for little ones.
Along the Eastern Shore, in the Chesapeake Bay region, and in parts of southern Virginia, theater is harder to come by. Elsewhere, you'll have a much easier time locating a professional theater, community theater, or college theater where you can enjoy a show. Roanoke's Mill Mountain Theatre even provides signed and audio-described performances, and they're handicapped-accessible.
From a Broadway show at the grand and luxurious Chrysler Hall in Hampton Roads to a bold performance art piece at Charlottesville's Live Arts, theater thrives in the Old Dominion. Virginia's dramatic heritage and dynamic theater scene merits a standing ovation.
Print this Article